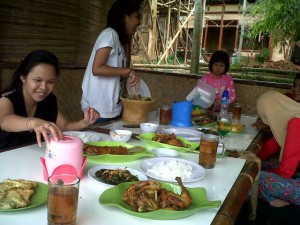 Bandung weekend tour package is Bandung package tour on Saturday and Sunday or any day provided that the tour is two days.
The package include all in transport and entrance fees and also meal package.
The driver will be your guide also.
By using Bandung weekend tour package, all that you need to arrange is airplane ticket and hotel voucher.
Bandung weekend tour package can include ticket and voucher too if required.
To follow Bandung weekend tour package, one person only is ok but more persons in one group, cheaper price you will get.
The cost mentioned is per person.
Pick up point is hotel on Saturday morning.
To follow Bandung weekend tour package, no downpayment needed, just inform in what hotel you stay in Bandung with check in name and phone number, then the Bandung weekend tour package booking is confirmed.
Payment is given directly to driver in the morning before leave hotel.
Itinerary
In weekend, it is good to leave hotel at 7.30am to avoid traffic jam.
Bandung North
———————-
– to Tangkuban Parahu
– in Tangkuban Parahu
– to Ciater
– in Ciater
– Lunch
– to Rumah Mode
– in Rumah Mode
– to shopping area: Cihampelas walk, jalan Riau, jalan Dago.
– Shopping
– Dinner
– back to hotel, end of tour Bandung North
Bandung South
———————-
– 7.30am – 10.00 : check out hotel, to Kawah Putih
– 10.00 – 11.00 : in Kawah Putih
– 11.00 – 11.30 : to Patengan lake
– 11.30 – 13.00 : in Patengan lake and lunch
– 13.00 – 16.00 : to back Bandung city, in road, rest in strawberry farm to pick strawberry by yourself
– 16.00 – 18.30 : to Bandung airport for evening flight end of tour Bandung South
Price (per pax)
– five persons: 1,700,000 IDR
– four persons: 1,800,000 IDR
– three persons: 2,100,000 IDR
– two persons: 2,500,000 IDR
– one person: 3,600,000 IDR
The cost above is estimation to be prepared.
Amount to be paid to us is car transport only.
To contact Bandung Weekend Tour Package, please drop your message: